Day 1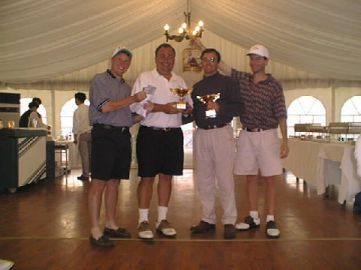 Led by Joey's absence and a brilliant 69 by resident pro Ian Watkins, Team Tatelbaum surged into the first day lead with a team score of 59. The remainder of the field stayed in the hunt on a beautiful day for scoring at Suzhou.
Day 2
Yin Tao proved to be a stiff challenge -- following "the light entertainment" nite in Suzhou -- with the strong wind, unfamiliar track, and playing at nearly 7100 yards. With the exception of the O'Connell / Jellard casualty, most teams kept in the hunt for the CrabCash. The much anticipated Joey implosion never materialised despite a double-double start. Strong moves by Nik/Russell and Chan/Warmack have made the race for the hardware a good one as we move to Shootout Sunday at the Links.
Final Round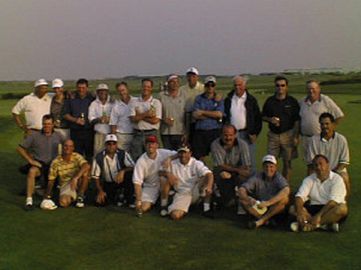 The venue, the weather, and the competition all lived up to it's billing on the final day of the this now embedded annual competion. With Joey proving he was not to be forever remembered as "Titanic Tatelbaum", he and Formon held back the charges of Left-Hand Low / Warmack, and morning favorites to overtake, Wallin/Probert. And while much of the field played the day to just get to the free beer at the 18th, the team of Stute/Clarke made a mile of putts to sneak into 5th place money. CONGRATS TO JOEY / ROB / IAN 2000 SHANGHAI HAIRY CRAB CHAMPIONS.