Day 1 – Suzhou Sunrise Best Ball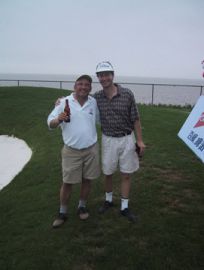 Excellent conditions led to excellent scoring in the first round as 16 of 20 teams broke par. Newcomers Rippon/Mulligan set the early pace with a 10 under par 62 to lead by two. Close behind at two back were tournament tested veterans Beck/Ryan, and 2/3rds of the Forman/Tatelbaum/Watkins 2000 championship team (less than 2/3rds if you count JoeyT's 35lb weight loss), looking to defend their title.
Also in the hunt at 6-under 66 were Snively/Murtaugh, along with a host of teams at 5-under setting up the tournament for a very exciting weekend. Soon to be distant memories in the tourney were Probert / Duffy (+5), Pascal / McCann (+2), and presumably Docalovich / O'Connell (+2).
Day 2 – Shanghai West Alternate Shot
Bleary-eyed and short of rest after a late night of dancing in the streets of Suzhou, the participants assembled for the ride to Zhouzhuang. The previous nights five straight wins at the foosball table by Snively and Newcomb was a bad omen for Snively as the early announcement came that the first ever Hairy Crab withdrawl was imminent due to a freak bathroom accident. Apparently Phil Murtaugh suffered a back injury while "brushing his teeth" and had to withdraw, leaving Snively to play with rookie Logan King and for all practical purposes, becoming a boat taking on water.
The alternate shot format once again provided the sternest test for participants (those 3-footers on grainy greens aren't easy following a night of revelry in Suzhou). The best score again this year was a 1-under par 71 achieved by 3 teams, including defending champions Formon/Tatelbaum (thus legitimizing their effort for a repeat), Docalovich/O'Connell (coming back from the dead), and Seamus/Newcomb (utilizing Newcomb's controversial plumb bob technique). First day leaders Rippon / Mulligan kept their hold on first place by shooting a fine 73, and Jared/Dodds moved into serious contention with a even par 72. Probert/Duffy solidified their hold on DFL, and low handicappers Wallin/Colozzi surprisingly lost control of their claws and pinchers carding an 80. The day finished with a fine dissertation on the virtues of Eskimo Nell from Colin Airdrie.
Day 3 – Shanghai Links Scramble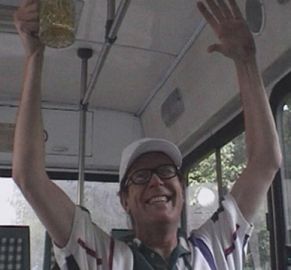 The day loomed large for scoring as early rain and winds gave way to calm conditions and sunshine on the shores of the East China Sea. And you can rest assured that all who came for this final day did not come all the way to Pudong to lay up! With points awarded under the modified Stableford system rewarding aggressive play, fully 15 teams started the day with a realistic shot at a top six finish..
Leaderboards and Budweiser Hostesses dotted the landscape as the tournament participants teed off, leaders last, off the first tee. Snively/Murtaugh/King added a new surname as Mike Plaspohl appeared to relieve Logan King and attempt to hold them all together. The huge moves expected were soon realized as Palmer/Lomasson and Docalovich/O'Connell found their way to the top of the board at the end of the front nine. While their valiant efforts were not good enough for first place, they had solid locks on several of the coveted crystal trophies.
Solid play by weekend leaders Rippon/Mulligan and Formon/Tatelbaum, and a huge back nine by Beck/Ryan made it a 3-way shootout as they turned for home on 18. Knowing they were in the hunt, Nick Ryan drained a 20 footer amongst the drunken patrons surrounding the 18th green to give Beck/Ryan –21 for the day and put them in at –26 overall. When Mulligan/Rippon failed to make par on 18, and Joey Ts incredible lob wedge over a gaping greenside bunker lipped out of the hole, Beck/Ryan took home the coveted red jackets.
For Nick Ryan, however, it was a bittersweet ending, as his red winner's jacket was subsequently stolen from the Portman West Tower lobby, leaving young Ryan with the champion's crystal trophy and alas only the fond memory of once donning the blazing red blazer. He vows to return in 2002 to claim another one.