Day 1
Northerners Open Early Crab Lead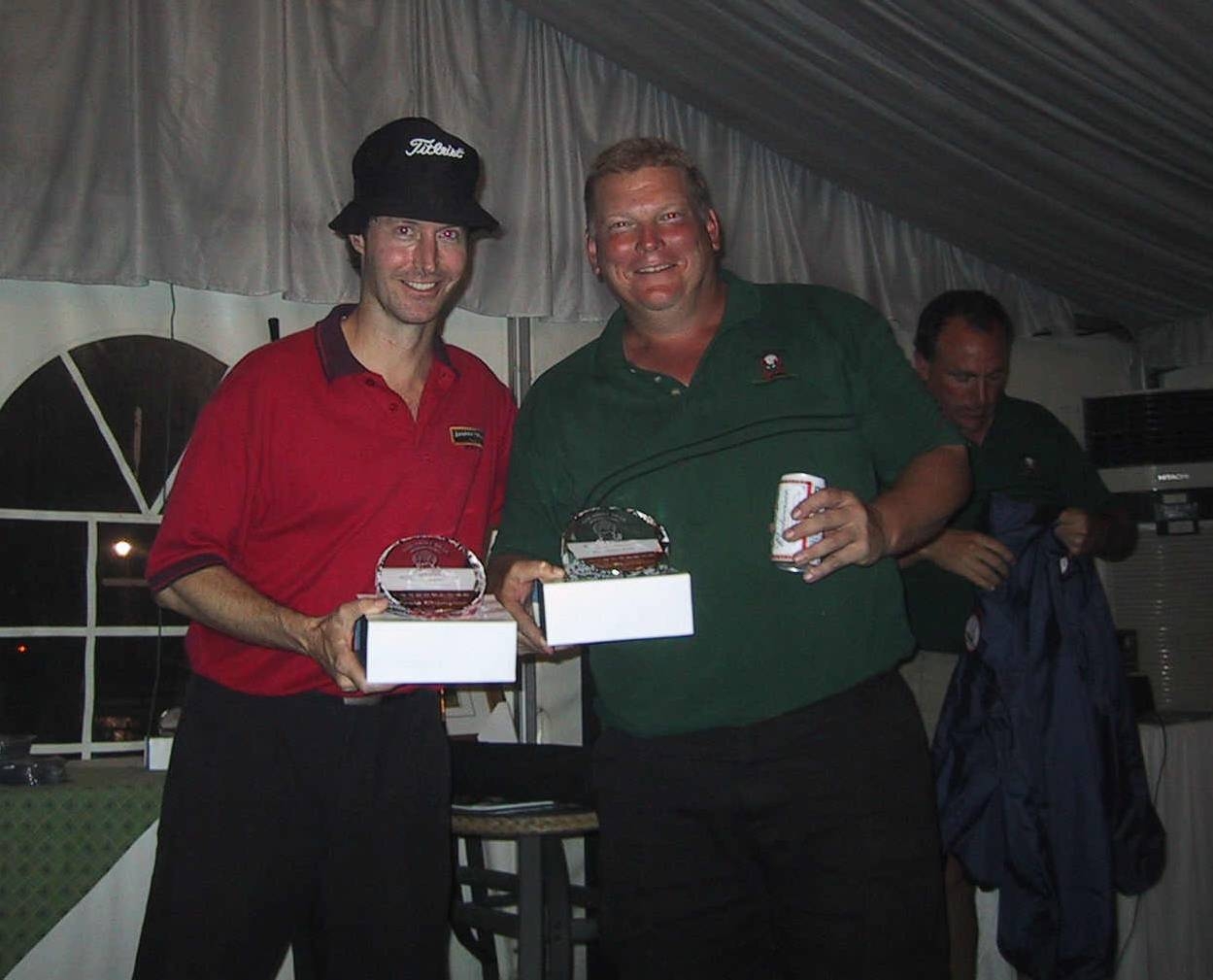 Canadian Marc Pascal and Swede Anders Fager finished moments before a thunderstorm soaked half the field at Tianma Country Club. The pair opened a 5 stroke first round lead with a brilliant alternate shot net total of 65. Twins sons of different mothers, Jerry and Peter Hamilton, secured lone second on 70 with the bulk of the field bunched close behind.
Joey T breathed easier as Cornelius & Ryan dropped to the rear of the pack with Chapman/Kennedy and Kaptzan/M Duffy.
In Clam action, Jim Stuart-Young bested Mike Plaspohl by one to take Friday Stableford honors.
The field retired to the comfort of Tianma's dining room to spin tales.
Day 2
Worst to First, Field Tightens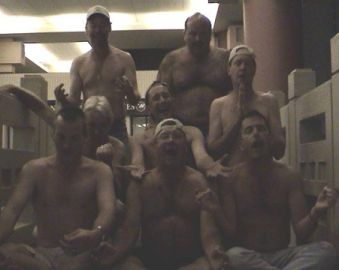 Calcutta longshots, two time defending DFL, Dave Dodds and partner Colin "the Poet" Airdrie, fired a Net Best Ball 65 to catch first round leaders Mark Pascal and Anders Fager at -8. Stew Beck and Budda Lomason shot the round of the day on the well conditioned Shanghai Links at 64 to close to -3. The field remained tightly bunched with most teams still in striking distance with bonus points available in the Sunday Scramble's modified Stableford scoring system.
Peter Sparkes claimed the Saturday Clam title with 51 Stableford points. Mike Plaspohl came 2nd for the 2nd consecutive day.
Friday Clam champ Jim Stuart-Young fell off the pace after surviving a sculled pitch assault to his torso from playing partner China Jim. That evening, preventive anesthesia in the form of Mexico Lindo margarita's were administered to the field in volume.
Day 3
Hedgehog & Dalai Loma Charge to Crab Win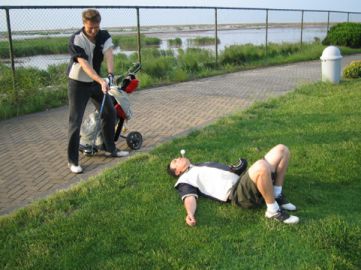 Stew Beck and Keith Lomason shot the low round for the second consecutive day at Shanghai Links, scoring -24 Modified Stableford points to capture the title with a -29 total. Over night co-leaders, Mark Pascal and Anders Fager finished 2nd scoring -18 on the day for a -26 total. At the back of the pack, Jimmy Hotdog & Mike Duffy held off the backward stumbling Caveman/Kennedy and Heads, Pin and Big, to capture the coveted DFL title and trophy.
Mike Plaspohl broke thru after a pair of 2nd place finishes to capture the Sunday Clam Stableford in a countback from Peter Sparkes.
The field retired to the Links tourney room to divide the spoils. In the almost dynamic Barnacle flight, Phil Davis was awarded the first ever, "Barnacle of the Year" for being.....hmmm..... well.... for being.