The Hairy Crab Invitational is a 54 hole two man team competition held over three days. Three different formats are used, Best Ball, Scramble and Alternate Shot. The rotating format keeps things interesting and has produced some memorable finishes on the final holes. Teams are chosen the night prior to the tournament via a blind draw matching a "Crab" (lower handicaps) and a "Shrimp" (higher handicaps). The draw is immediately followed by a calcutta auction of the teams.

A similar format was originated by our fellow Jolly/Hairy Tour tournament, The Jolly Buffalo, held annually at Chung Shan Hot Springs Resort in Zhuhai, China (China's first modern golf course). The Jolly Elephant in Pattaya, Thailand, the Jolly Beaver in Whistler, British Columbia and the Hungry Harimau in Kuala Lumpur, Malaysia complete the Jolly/Hairy Tour. In 2019, the tour ventured to Europe for the first time when the Hairy Crab hit the road to Ireland.

In 2003, a "Clam" flight was added to the Crab to accommodate players of all skill levels and those that could not compete on all three days. The Clams play a three rounds of individual net Stableford event with daily winners and an overall three day champion. 2004 saw the addition of the "Barnacles," non-players who join in the social activities.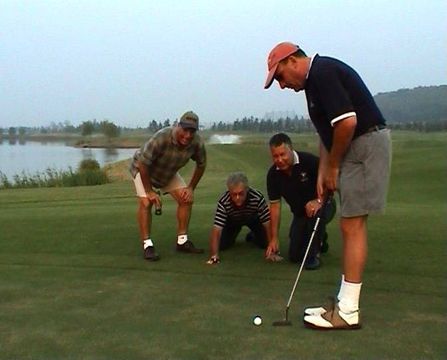 The Hairy Crab Invitational features a full social calendar starting with Calcutta night. Post round dinners are held nightly giving ample opportunity for old friends to socialize. The annual charity auction regularly features vacations donated by our players to exotic locales such as Bali, Phuket, Whistler and Pebble Beach. Our tournament director whose day job is that of a freelance TV writer/producer, provides us with annual tournament themed videos which have included such classics as "From Puxi with Love", a James Bond parody and the U2-esqe music video, "I Still Haven't Found My Titlelist 4". The tourney culminates with dinner and prize giving following the final round.
The Hairy Crab Invitational Crustaceans (Crabs, Shrimps, Clams & Barnacles) have proven quite generous. Since it's founding in 2000, the tourney has raised over USD 922,000 through donations, profits, charity auctions and sponsorships. Our primary beneficiary is currently Chunhui Children who do wonderful work with China's orphanages to improve the lives of the most vulnerable children. Past beneficiaries have included the neo-natal intensive care unit at Fudan University Hospital and Heart 2 Heart who provide open heart surgery to Chinese peasant children. Our organizing committee is completely volunteer so 100% of what we raise directly supports needy children.