What a Long strange chip, indeed.
I guess we all know now what exactly he was talking about. Three years before this year's Hairy Crab, Nigel began intense golf practice under Yoda. Two weeks before the golf, at the first HC poker night, Nigel began shouting, no screaming, his amazingly irritating tag line, "That's what I am talking about!" . Well, we all found out he was actually talking about ---the sweet smell of napalm in the morning---Victory. Grant carried Nigel and together they carried away the Caldwell cup. A terrific victory that brought "Humble in Defeat, Obnoxious in Victory" to a whole new level. Congratulations, boys!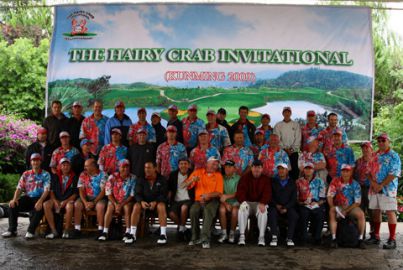 Perhaps Grant knew what was coming as he tried to persuade Nigel to not sell more than 100% of his team Calcutta night.(Apparently they had slightly less shareholders than "Springtime for Hitler.") Perhaps Nigel knew what was coming, which is why he bought almost every auction item the night before the final round.
It is likely that Ria, Nigel's wife, did not know what was coming when she said to him, "Have a nice time in Kunming and if you win, I will have something very special for you when you get back." There's a challenge that no one ever expected that would have to pay off on. So, Nigel, was it special?
At the same time, in a heated clam contest, Andy Uetiger stumbled off with the Lu plate in the clam category. He took photos, he played well, he showed up, he won. Congratulations!
In an unprecedented, yet not completely unexpected turn of events, last years champs, Swampy and Callaway, dropped from First to Worst. "Wining is a team effort," Swampy later said, "And so is losing. We sucked."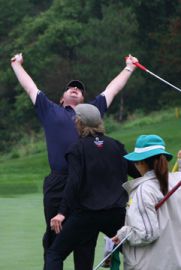 The opening night lottery provided some intriguing teams.
It is clear that Peter Hamilton and Joey were meant to play together. "It was fine after I figured out how to use my noise adjusting headphones", said Peter

Jared and Wellins played together for the third time, but it was not to be "three times lucky". They had an amazing scramble round, but fell apart in the alternate shot. Well, as someone said " Tweedle Fat and tweedle moron will have to try their luck again elsewhere." Jared was his own personal highlight real at Saturday's dinner.

Matchstick and Gasoline were great. At one point, 'Thomas the Angry's" caddie could not decide whether to look for his lost ball in the left woods or his thrown club in the right woods. They made a great run on day three and ended up winning the Loser's game.

Goh and Newcomb gave it a go. Newcomb was, apparently, too tied up and got beat. Brad did, however, win the first HC video awards, which proves, once again, it is not all about golf.

Keano and Rudi were perhaps the nicest team in the event. Obviously, nice people don't always finish last, but pretty close to it, anyway.

Coach MacGrail and protégé Soremstam played very steadily and had an amazing alternate shot. 76 off the stick for second place. In the post game interview all Scooter could be heard saying was, "…..and we three putted four times….."

The tallest team in HC history of Brucey and Miller were -3 everyday to tie for third. The ball travels further at high altitudes.

Seamus rode his jockey Heap to a tie for third as well.

Stew and Martin the Mad, now of Transylvania played well enough for a tie for third as well.

Unfortunately Middle Earth and The Cobra found out on the third day that it was a thee day event and faded from glory….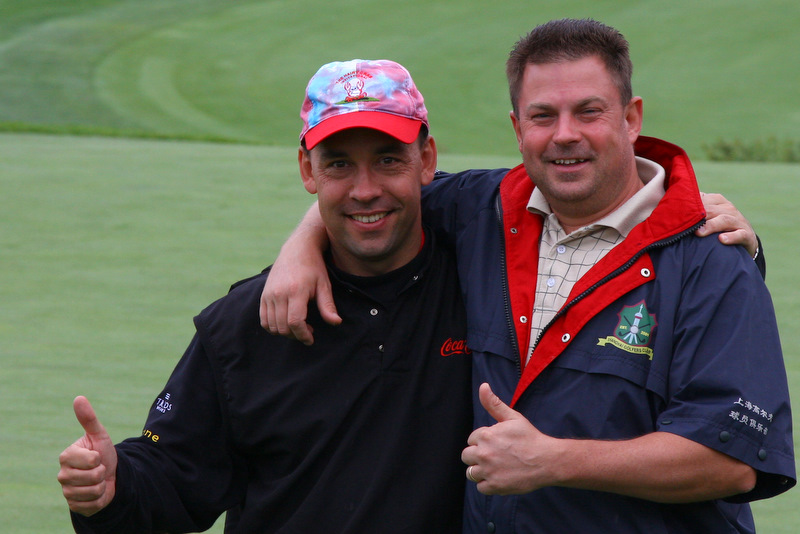 Spring City was a great host for the event. Bud supplied the aiming juice and thankfully, everyone showed up for the auction night.
With all the gloom going on n the world and things being very tight, we set a record on auction night and ended up raising nearly RMB500,000 for Hairy Crab Charities.
Lots of good will come from that and lots of people will benefit and that is part of what makes this event great.
Now that's what I am talking about…….