Well, "it took the contagious", or at least one extra hole, as Gary Goh and Rob Goble claimed the 2011 title in a thrilling Crab first-ever playoff over Keano and Moscow Steve. Tied after the regulation 3 rounds, the lads returned to the Spring City Mountain Course's 18th tee to settle matters. Go-Go played a risky fairway wood 2nd shot safely over the ravine but left Gobbler in a deep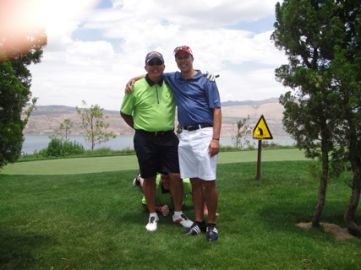 greenside bunker. Gobbler hesitated over the shot for what seemed like an eternity before hitting a magnificent blast across the length of the green to 7 feet which Go-Go lagged and Gobbler tapped in for the stylish victory.
The playoff capped an exciting final round with 4 teams vying all day for the top spot. Speedbump-Pin and 007-GR were in contention til the end with both finishing 2 shots back tied for 3rd. Angry Santa and Duke scored an impressive 65 in the alternate shot to climb into 5th place money and tie the Toilet Bowl with Swampy and Middle Earth's Brother.
Scooter continued the Crab's First to Worst tradition albeit with a new partner, Herr Colozzi. The Follicly Impaired duo of Hamstra-Hamilton made an equally impressive drop to a DFL tie after holding the first round lead.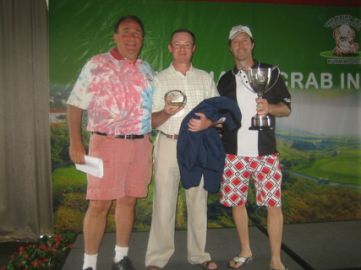 In a flurry of iron brilliance, Doddsie claimed closest to the pin in all three rounds, winning three pair of Loudmouth pants from Hin & Johnson. No-nickname John Wong was last seen on the phone with his supplier buying more fabric while Doddsie fended off demands for him to play the par-3's next year using Duke's lefty clubs.
Sammy (aka Player 6) was clearly the blind-leading-the-blind in a series of hotly contested late night golf simulator competitions and narrowly avoided decapitation by a 7-iron shot by Hedgehog that, aaah, flew offline a wee bit.
Congratulations to all for another fantastic Crab which raised over 200,000 RMB. Stay tuned for more news on this next week......