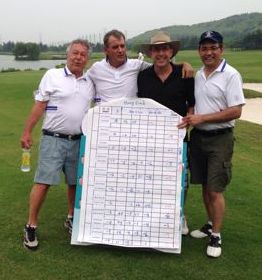 Woody Watkins rode his groundbreaking tripod shrimp to victory in the 15th annual Hairy Crab Invitational. Woody and Cousin Vinnie were one of only two teams under par Friday and only one stroke off the opening round lead of PC and Dimebag. Beerboy Jack helped the Auzzie Pro fire a 2nd round 64 to catch Team Shanghai Bald by Saturday night. Datou joined Woody's anchor leg, holing an 18th hole birdie chip to secure a 3 shot victory over Horse and Dalai Lomo.
Rookie Billy Elliott and a freshly quaffed Doddise fired the day's best alternate shot to secure the Sam Mulligan Toilet Bowl and move into a third place overall tie with PC and Duke.
Entering the day tied for DFL, Mully and Gobbler rose to SMTB 2nd while Pin and the Chairman won DFL going away.
A good time was had by all and bunch of cash was raised for the kids. Well done to Stew, Joey, Jack , Rob, Swamp, Woody and all the organizing team.