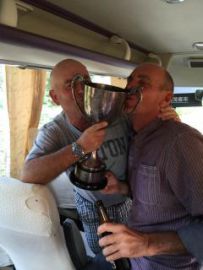 Billy Elliott and Uncle Duke won the 16th Annual Hairy Crab Invitational in dramatic fashion Sunday. Having built an impressive 10 stroke lead after firing 65-58 in the first two rounds, a final round 67 for a record setting -26 should have given the follicly challenged duo an easy Sunday stroll to the title.
Boom Shuka Lucka and 'Bama Tom had other ideas. The sophomore and rookie combatants found themselves only one shot back on the final tee. Their par net birdie, for their own record alternate shot of 59, -24 overall, wasn't good enough as Duke rammed home a birdie net eagle to seal the two shot victory.
Caveman and Seargent Scholz grabbed 3rd at -14 posting a back nine alternate shot -9, erasing a 9 stroke deficit to the Chinese Beatle and Doddsie at -10 in 4th. Horse and Disco Chris rounded out the winners in 5th at -8.
Hollywood Rod and Joey T nipped Hedgehog/Moscow Steve and Go-Go/JD's Pants by one in a tight Toilet Bowl affair.
This year's alternate shot victims featured Keano and Chairman Daniel plunging to DFL. Meanwhile Yoda's and Gobbler's balky putters helped Naked Grant set a record for the highest Calcutta price ever paid for a zero return team.
Kudos go to our tourney organizers Joey and Stew, our Spring City hosts, Seargent Scholz for the beer and Chef Yoda on both the BBQ and the oven.
The big winners will once again be Half the Sky/Chunnai Children. Thanks to the impressive generosity of our donors and bidders we garnered a pretty nice haul for the kids.