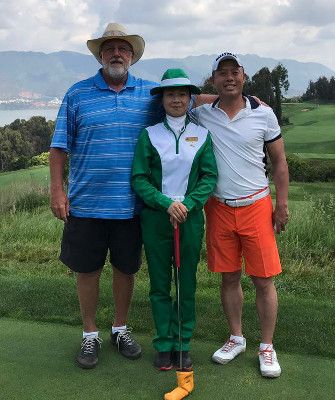 War Eagle Bubba & Johnny the Monk stunned the field with a 25-under total to win the 18th annual Hairy Crab Invitational at Spring City going away. The vodka and reggae fueled pair seized control of the proceedings with a blistering -11 front nine in the Saturday Scramble and never looked back.
First round leaders, Chappy/Cowboy Bill shared 2nd with last round charging Geno/Vinnie the Wedge. S2/Doddsie and defending champs Pin/Joey T rounded out the top of the pack in joint 4th.
A round of inept overtime chipping could not settle the Toilet Bowl which was shared by Boom Chucka Lucka/Hamilton Chris and Pong/Gosling. Marky Loo/Russell in the Bush rounded out the winners with a Toilet Bowl 3rd.
Corndog/Timmy Tuna went wire to wire to claim DFL but not before holding off a late charge from PI Dutchman/Gobbler.
The boys stepped up in a big way in Saturday's auction raising a pile of cash for the kids. Totals will follow when the accounting is completed.
Many thanks, to Joey, Stew, Yoda, Charlie, Swampy, all who helped out and our wonderful hosts at Spring City.
More details to follow.
: D